How Much Does a
Medical Answering

Service Cost?
When choosing a medical answering service, you will need to consider the pricing alternatives and decide what works best for your company. Whether you're looking for a 24-hour medical answering service for after-hours or just call management for daily overflow, there are a few price structure options. Remember, not all answering services are the same, and their pricing and quality assurance will reflect that.
Answering Service Rates

& Pricing

Comparison of Common Pricing Structures for Medical Answering Services
Flat-Rate

Pricing
You must choose a plan based on expected call volume.
Agents may feel rushed.
Service quality suffers with high wait times and dispatching mistakes.
Extra charges add up quickly.
Per-Minute

Pricing
Monthly bills vary depending on time spent managing communications.
Transfer time, voicemails, and admin work are charged separately.
Agents may feel less incentivized to handle calls efficiently.
Longer calls result in excessive fees.
Supplemental charges can add up quickly.
Per-Unit /
Per-Call

Pricing
Monthly bills vary based on call volume.
Calls and related admin work are charged as single, blended units.
Service quality isn't affected by call volume or time limitations.
Agents are trained to handle calls efficiently.
Billing records can be easily audited.
There are NO hidden charges.
Disadvantages to Flat-Rate and Per-Minute Pricing
Flat-rate billing is attractive at first, but it requires businesses to know how many minutes they will use each billing cycle in order to get the best value. It is generally recommended for low-volume organizations. When larger organizations take advantage of flat-rate pricing, call management resources may not be prepared to flex and scale up to handle peaks in volume. This is a catalyst for high holds time, dispatching errors, and overall quality degradation. For most healthcare organizations, due to the variable call volume and complexity of call management, a flat-rate structure isn't the best option.
Though per-minute pricing seems straightforward, this means that a 10-minute call is billed as 10 minutes. This leaves little incentive for the answering service to encourage efficiency among their agents, thereby increasing your monthly expenses. In fact, a dishonest answering service provider may take advantage of customers with this type of pricing. Some may train their agents to purposefully slow down when handling calls to increase billable time. There truly is a fine line to handling a call efficiently, accurately, and ethically. It's also important to understand how a minute is defined. Does it only include talk time? How are wrap-up time, administration work, and hold time billed? Are minutes rounded to the nearest second, or calculated and summed into 6, 12, or 18-second increments? There are many factors that add to the perception of a low, per-minute cost. However, extra fees and charges add up quickly.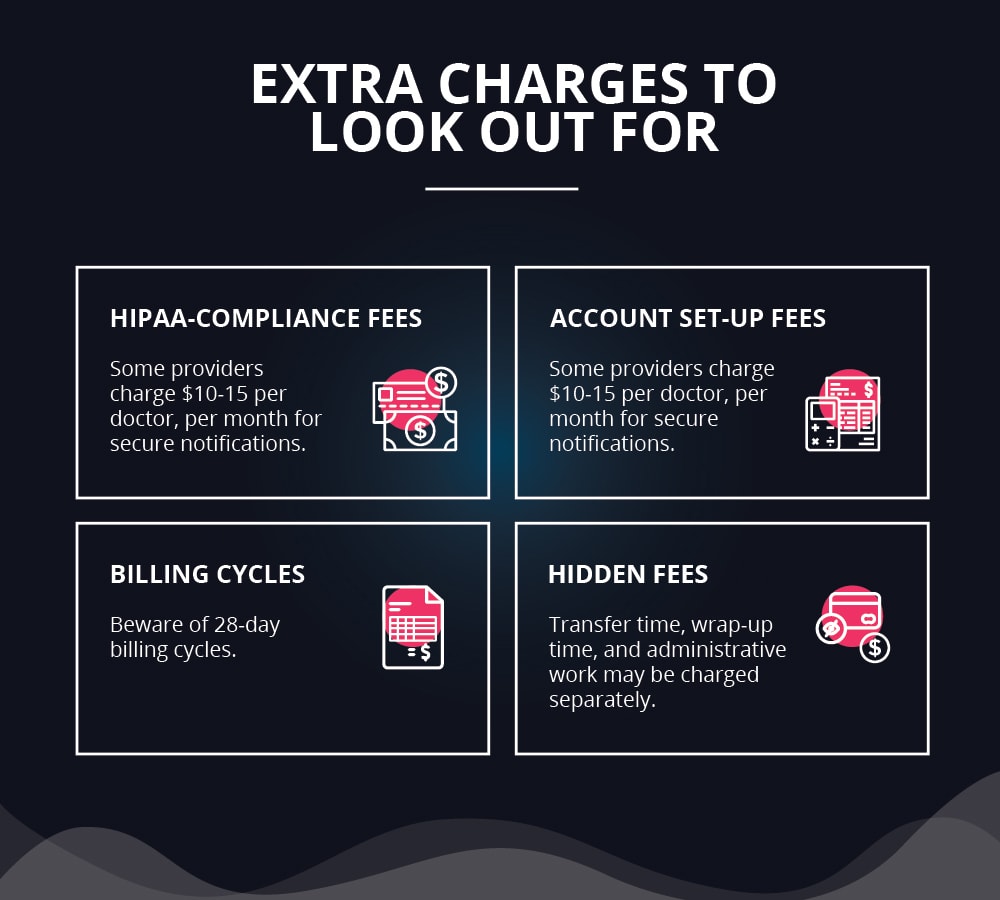 Advantages of Per-Unit /
Per-Call

Pricing for Healthcare

Pay-as-you-go is the simplest, most transparent medical answering service pricing model. This consumption-based option measures billable units as specific events. Events include inbound and outbound calls, emails, faxes, SMS, and patching. This model can help your organization optimize staffing and the flow of communications by seeing the overall picture of your call volume footprint.

With per-unit pricing, a 10-minute call is billed as 1 unit. In this way, answering service providers are encouraged to train employees to handle all types of communication challenges efficiently while assuming some of the risks associated with caller difficulty. Ensuring that costs are contained, while service quality remains high, this is the clearest and most cost-effective pricing model.
Get
Flexible Pricing Fit

to Your Needs

PatientCalls offers flexible help answering calls to fit the needs of your practice.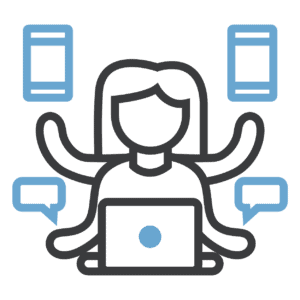 Daily Overflow
Augment your office staff, ensuring that every patient's call is answered in a timely fashion, even when there is high call volume. 
After-Hours
We can help you decrease the reliance on in-office staff and the number of receptionists by handling calls coming in after business hours.
Weekends & Holidays
Avoid paying overtime costs while enabling access for patients calling while your practice is closed.
Costs
Associated with HIPAA

Compliance

The costs associated with maintaining HIPAA compliance are variable depending upon the medical answering service. Some providers use Tiger Text, Onpage, Gmail, or other HIPAA-compliant SMS solutions all of which have additional costs that are sometimes hidden. These cost up to $10-15 per doctor, per month which results in high recurring fees for the use of a secure platform.

A true HIPAA-compliant medical answering service, such as PatientCalls, provides its own secure SMS platform which is FREE of charge.

Shopping for HIPAA-compliant answering services for medical offices can be challenging. Different pricing models and billing structures make it difficult to compare service providers. Ultimately, there will always be the question of cost versus value and quality. You must determine the value of professional patient care and the quality of life for personnel after-hours.

Look for a qualified provider that ensures caring, reliable, and flexible call management services, in addition to transparent pricing options. Requesting a quote specifically for your healthcare practice is the first step in making a well-informed decision.
Frequently Asked Questions