Custom
Electronic Medical Records

(EMR) Integration

EMR software is becoming as necessary to the medical field as a Ph.D. The vast majority of medical organizations are now using or starting to migrate to an EMR service in order to keep up with the digital ecosphere we now live in. EMR is becoming larger and more feature-rich than ever, with user-friendly information migration tools, apps, and accessibility tools.

The HIPAA Omnibus regulations created the need for this kind of software to exist to ensure the protection of the PHI (personal health information). This innovative software architecture has brought security to such high levels that time, money, and patient-care efficiencies have been enhanced.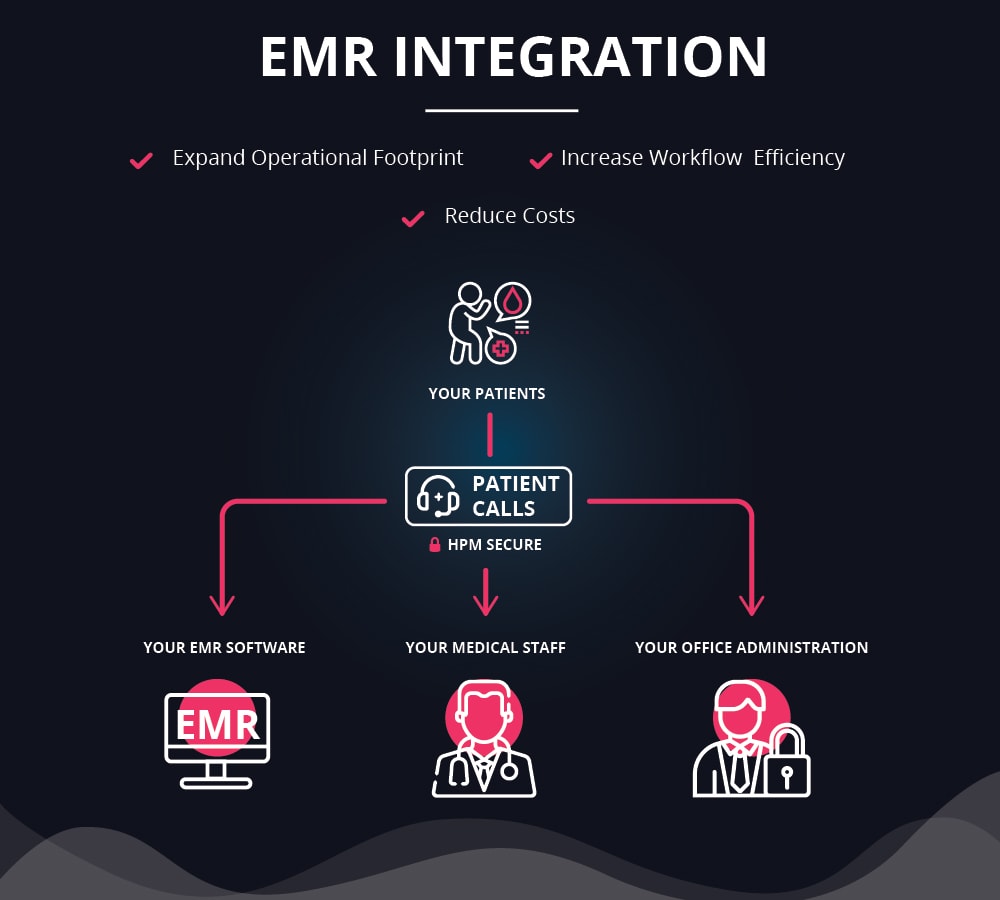 Creating Healthcare Answering Service Efficiencies
The efficiencies that are created from electronic record sharing are now bleeding over into the worlds of many other business associates, including PatientCalls allowing them to utilize these platforms to provide even greater time efficiency and transparency. Now the patients, doctors, and other entities can experience seeing the information flow from one place to another seamlessly.
With a completely customizable message delivery solution, PatientCalls is easily able to route your messages to the people or platforms in your medical organization that you specify, at the time and in the manner specified. Limiting the "double handling" of personal health information creates a better message flow that allows both software and staff to see only what they need to see, when they need it, without duplication of messages and undue confusion.
Using an automated program interface (API), we can connect to most current EMR systems to retrieve data directly from the EMR platform. In addition, we work with your organization to create a call directive plan based on your needs.
EMR Integration Processes Made Easy
PatientCalls' technology and staff has the capability to connect to your existing EMR to provide you the time savings and enhanced monetary benefits of having such an extremely fast-moving system. Integrating your EMR with PatientCalls expedited process gives your organization more value and better quality of care to your patients.
Call us today for more information on how PatientCalls Medical Answering Service can integrate into your current EMR platform and create informational performance upgrades you can feel secure with. Learn more about our integration support for eClinicalWorks.
Contact us today and discuss how our top-rated medical answering service can help your office communications run more efficiently. Call now 1-866-333-7922 or click the button below!