Custom
Electronic Medical Records

(EMR) Integration

EMR and EHR software has become the backbone of the healthcare industry. In recent years, it has developed into a powerful tool for improving interoperability, making medical practices more efficient and effective. Today's EMR systems are simple to use for the medical staff and provide a wide range of tools and apps to make their job easier.

Your healthcare organization – big or small – can also benefit from integrated third-party services, while maintaining the same level of data security and patient privacy required by HIPAA. EMR integrations act as virtual staff augmentation. Trained and authorized staff of external companies are able to access patient information, when needed, to deliver fast and effective of services to patients.
PatientCalls'
Custom EMR Integration

Process

PatientCalls offers completely customizable EMR integration. This means that our agents work directly with your staff to understand their process and preferences, ensuring that information is handled the same way it would be on-site.
Understand and identify your practices' needs.
2. Walk through your training process and system usage.
3. Development of a successful integration plan.
The timeline for integration will depend on your organization's goals, the level of operational involvement, and the time needed to fully understand your EMR practices and preferences.
Full
EMR Integration

Assistance

PatientCalls offers a unique level of guidance during the integration process. Our operations managers fully understand how these internal and external structures can work together. And their goal is to make the transition extremely comfortable for you and your staff.

Integration is entirely customized based on how your staff currently uses the EMR system and how they would like PatientCalls staff to be involved. That's why we will work closely through the process and provide assistance at every step, from wherever your organization's starting point may be.

Learn more about our EMR integration support specifically for the eClinicalWorks and Intergy platforms.
Bringing Efficiency to
Healthcare Answering

Services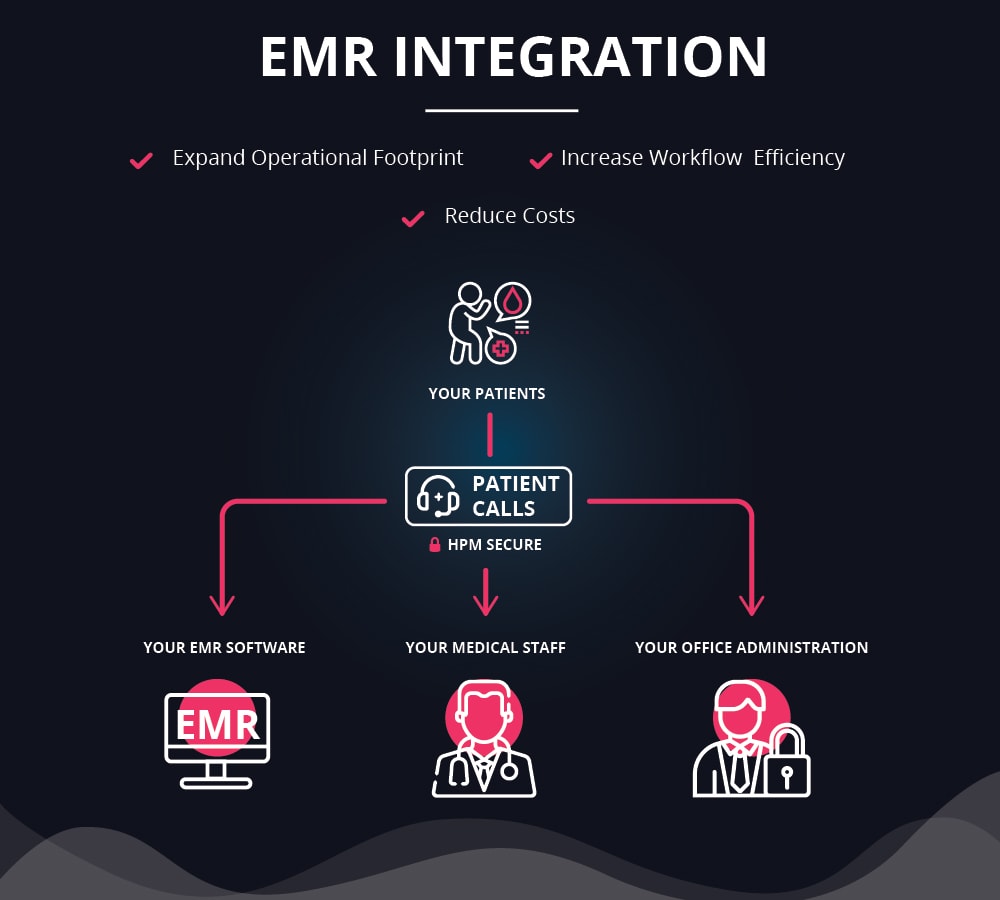 Using an automated program interface (API), PatientCalls can connect to your current system to retrieve data directly from the EMR platform. And because design a call directive plan directly based on your staff's needs, your patients don't feel like their calls are handled by an external company. The end result is a streamlined extension of your office that operates as a virtual medical office front desk.
With a completely customizable message delivery solution, PatientCalls is easily able to route your messages to the people or platforms in your medical organization that you specify, at the time and in the manner specified. Limiting the "double handling" of personal health information creates a better message flow that allows both software and staff to see only what they need to see, when they need it, without disruption and undue confusion.
EMR
Integration Transition

Made Easy

Call us today for more information on how PatientCalls Medical Answering Service can sync with your current EMR platform and create secure informational performance upgrades.