Secure
Text Messaging

for Healthcare
FREE, HIPAA-Compliant Text Messaging & E-Mail Technology
PatientCalls provides specially designed software for all of its clients working in the healthcare industry. PatientNote is an innovative solution for quickly relaying important messages to doctors and staff while also ensuring that sensitive information is protected.
Why is Secure Messaging Important for Healthcare?
Patient Privacy & Data Protection
Improved Patient Engagement
Reduced Communication Errors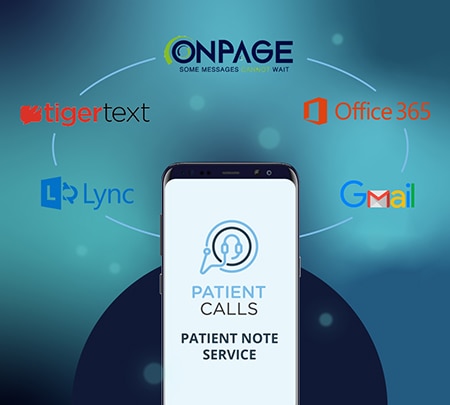 How
PatientNote

Works

This is what healthcare professionals can expect when they use our secure app designed to deliver text messaging for medical offices and integrated medical answering services.
1. Receive SMS/text message.
2. Click on the link in the message.
3. Enter password and view notification.
What Makes
PatientNote

Different?

PatientCalls provides an app that ensures secure text messaging for healthcare.
No ePHI stored on mobile devices.
No apps to download or fees to upgrade.
No operating system (OS) requirements.
Easy to use.
Data is encrypted and password-protected.
Real-time confirmation of message retrieval.
Controlled time access to ePHI.
Communications
Fit for Healthcare
We handle each of our clients separately because each office and healthcare network operates differently. PatientCalls acts as a virtual medical receptionist answering incoming phone calls and forwarding them or relaying messages according to your unique protocol.
Helps
Coordinate

Healthcare Staff

In order to meet all the logistical requirements and deliver time-sensitive information, PatientCalls created this exclusive technology. PatientNotes allows organizations – from small medical offices to expanded health networks and remote home care services – to coordinate staff and provide optimal patient care.
Notifications to on-call staff.
Immediate dispatching,
'Out of the office' forwarding,
Home health care logistics.
Relay call to action.
Appointment reminders.
Always
Secure & HIPAA

Compliant

It's now possible to send and receive text communications; text messaging for healthcare has evolved with apps designed to protect patient information.

PatientNotes is a secure SMS software that connects to the PatientCalls CMR. It is was exclusively for our clients in compliance with HIPAA regulations – with data encryption and password protection – to safeguard patient privacy and protected health information. Unlike standard text messaging, e-mail, and mobile apps, there is no risk of HIPAA violations and hefty fines for non-compliance.
Integration with
Secure Messaging

Apps

PatientNote also integrates with most third-party secure SMS/e-mail apps. It's important to note that PatientCalls will not transmit any ePHI via a third-party solution without a signed HIPAA Business Associate Agreement (BAA) on file.
Gmail
Microsoft Office 365
Microsoft Lync
If your organization is currently using one of the products above or would like to discuss integrating with a product not mentioned, please contact us immediately to discuss.
PatientNote:
Secure Text Messaging

for Medical Offices

For more information on our PatientNote software designed for the healthcare industry, or to schedule a demo to see for yourself how it works please call (866) 330-5481 or fill out a request online to have one of our specialists call you.
Frequently Asked Questions