Of all the scary things that your patients are faced with these days, they probably have not given any thought to the risk of being scammed. Yet, this threat has increased since the beginning of the pandemic. Opportunistic scammers are taking advantage of people's fear and worry.
Raise awareness at your medical practice about this unfortunate trend.
Who Do Healthcare Scams Target?
Traditionally, medical scams tend to target seniors. Older people are more likely to be home to answer a phone call or be confused by an unsolicited text message. During the COVID-19 outbreak, seniors are also more at risk and more concerned about their health care. Unfortunately, scammers are capitalizing on these vulnerabilities now more than ever.
More specifically, federal agencies have warned of the rising instance of fraudulent activity targeting Medicare beneficiaries and retirement communities.
Why Are Medical Scams on the Rise?
In recent months, the Dept. of Health and the FTC have been warning the public about the increasing number of fraud schemes. During the pandemic, when people are more preoccupied with health concerns and interested in services, scammers have become more active.
"It is bad enough that fraud is on the rise generally but to prey on people's fears and hopes during this pandemic is unconscionable," explains Ben Kehl, who works for United Healthcare Medicare & Retirement. "Thankfully, new scams are consistently being uncovered. The first step in protecting yourself and your family is to stay informed."
How Do Healthcare Scams Work?
The medical fraud schemes we are seeing target people through telemarketing calls, text messages, social media posts, and door-to-door visits. The goal is to prey on people's fear for financial gain, often under the guise of a government agency, the health department, physicians' staff, or a health insurance company.
Medical scams can come in many forms. They include claims about a medicine or therapy that are unproven or false, contacting people with a fictitious excuse in order to collect personal information, and attempts to sell things that do not require payment (such as vaccines).
How Are Fraud Schemes Taking Advantage of the Pandemic?
When legitimate medical providers and virus chasers contact people these days, many are reluctant to provide information over the phone – and for good reason. The U.S. Department of Health and Human Services Office of Inspector General has warned the public of fraud schemes related to the coronavirus pandemic.
For example, scammers are selling products that claim to treat or prevent COVID-19 without proof that they work. Others pretend to contact people for coronavirus infection tracing or about an insurance problem in the hopes of eliciting personal information that can be used for identity theft. Still others are claiming to give priority for testing or vaccines in return for payment. These fraudulent attempts are being made in a variety of ways:
Telemarketing calls,
Text messages with links,
Social media content, and
Door-to-door visits.
They are gaining victims' attention and trust by offering things like at-home COVID testing or vaccines, HHS grants, and Medicare prescription cards. But these offerings are often unapproved and illegitimate. Rather, they are an excuse to gather personal details and information that can later be used to fraudulently bill federal health care programs and commit healthcare identity theft.
"Scammers are selling fake and unauthorized at-home COVID-19 test kits in exchange for your personal or medical information. Make sure to purchase FDA-approved COVID-19 test kits from legitimate providers."

– HHS Inspector General
What Types of Scams Should Your Patients Look Out for?
As medical practitioners, you can help your patients and staff to stay vigilant in the face of this rising threat. Send your patients information and provide a print-out for those who schedule in-person appointments regarding healthcare scams.
We are currently aware of the following malicious schemes. They may come in the form of emails, SMS messages, social media posts, and door-to-door attempts.
Selling vaccination cards or proof of vaccination for money.
Selling reservations for testing or COVID-19 vaccination.
False contacts on behalf of insurance and Medicaid to "confirm" or gain personal information.
Referrals claiming to be sent by a physician to schedule something unnecessary and unrequested: lab tests, supply of face masks, pain creams, or medical equipment.
Scammers who claim to be government contact tracers attempting to get personal information.
Fake advertisements about free healthcare services and supplies.
Contact about billing for medical, dental, and pharmacy services never received.
Claims to enroll the person in an insurance discount program.
Surveys that require personal information to participate.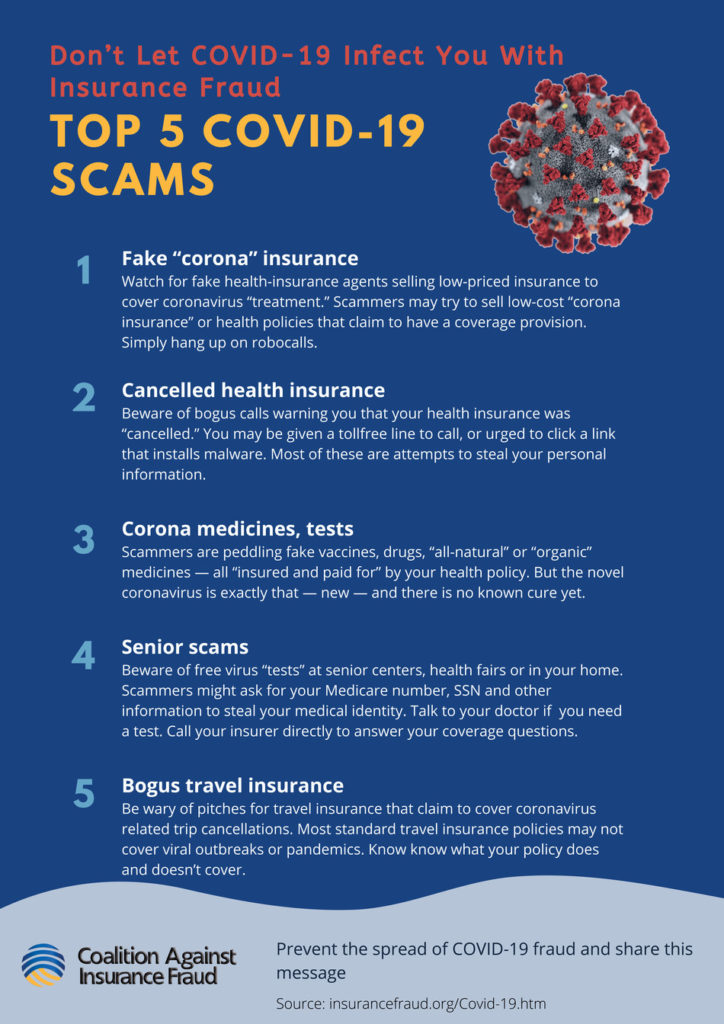 How Can Patients Spot a Medical Scam?
Scammers will often try to make people feel pressured to make a decision immediately and there is always an end goal; they are trying to get money or valuable personal information. Fraudsters may ask to be paid in an unconventional way – via a wire transfer, gift card, or money transfer app – and this can make them easier to spot.
Tell the patients in your practice to look out for requests to be paid for accepting a prize or getting priority healthcare services. They should be weary of scare tactics that involve heavy fines or missed "opportunities." Plus, they can be sure it's a scam if the caller or message pretends to be from a government agency or insurance company that needs to confirm sensitive information.
How Can Your Patients Avoid Medical Scams?
You can give your patients the following advice:
Don't click on links in text messages or emails from unknown individuals.
Do not provide personal information, like your birthdate and social security number, or payment information, like debit and credit card numbers in response to text, emails, phone calls, or door-to-door visits.
Protect your healthcare information; provide insurance and Medicare information only when requested by healthcare providers.
Avoid responding to unsolicited phone calls, emails, and texts.
Be suspicious of free offers or deals that seem too good to be true.
Don't trust your caller ID or the contact information provided in an email.
Don't share photos of COVID-19 vaccination cards on social media because it contains personally identifiable information that can be used to steal your identity.
When making appointments online, like that for the COVID vaccine, be sure it's through an official testing site.
Be aware of scammers pretending to be coronavirus contact tracers; they should never ask for financial information or payment.
Ignore advertisements for COVID-19 testing and medical treatments.
Only purchase FDA-approved COVID-19 testing kits from legitimate suppliers.
Vaccination cards are not for sale and should never be obtained for a fee; any proposition otherwise is a scam. Do not attempt to buy proof of vaccination.
Be cautious of COVID-19 survey scams and do not participate if personal, medical or financial information is required or an award is promised for your participation.
Be suspicious of any unexpected calls or visitors offering COVID-19 tests or supplies.
Ignore offers or ads for COVID-19 testing or treatments on social media.
Who Should Patients Contact if They Suspect a Medical Scam?
Patients should report this type of fraudulent activity whenever it is suspected. They can contact the FTC with general complaints. Fraudulent calls and messages related to health insurance should be reported to the National Association of Insurance Commissioners website. And scams specific to the COVID-19 pandemic can be reported directly to the U.S. Department of Health.